The top fitness studios in the industry have lead generation strategies that have brought in as many as 107 leads in 1 day, 225 in 1 week, and 616 in 1 month. How exactly did this happen? They used 3 strategies that are proven to bring in a ton of new leads.
Without leads, businesses don't grow. If these 3 strategies aren't already part of your marketing plan, they should be. They'll help you get new paying members for your fitness studio.
Lead Generation Strategy #1: A Proven Offer
When people see an ad on Facebook or Instagram, the thing that stops them is a proven offer. But, if there's no incentive for them to click, they won't take action.
The offer that's proven to generate the most leads for the fitness studios we work with is one free week. Here's why this is so effective:
The power of free: People love free things. Whether it's a coupon for free dessert at a restaurant. Or a buy one, get one free deal. People are more likely to buy from you when the power of free is involved.
People can check out your fitness studio without any commitment. There is no risk involved of paying up front so they have nothing to lose.
A ton of the fitness studios we work with have used the free week offer with great results. One barre studio generated 411 leads in 1 month with a cost per lead of $1.18. We've seen the studios we work with get an average of 120 leads with a $500 ad budget.
Here are the results of other studios that also ran a free week offer:
This pilates studio got 41 new members in the first 2 months of their campaign.
This boxing club generated 206 leads with a cost per lead of $2.19. As a result, they sold 25 memberships in less than a month.
This yoga studio generated 63 leads in their first 24 hours. Within their first month, they got 475 leads for a cost per click of $00.86.
This strategy seriously works. But if you prefer not to run a free week offer, your next best option is a paid offer like 20% off for 3 months or a special presale discount.
"The power of free brings in a ton of potential members to your fitness studio. "
Lead Generation Strategy #2: Paid Ads
Many small business owners say that the majority of their customers come from referrals. That's a great thing because it means your customers love the service you provide. And of course, love it enough to recommend you to others. But if you don't run paid ads, you miss out on a huge opportunity! New members from paid ads can bring in referrals too!
Once you decide on a proven offer, paid ads are an effective way to get it in front of your ideal members. Facebook and Instagram are both cost-effective platforms. They allow you to get your offer in front of tons of new people.
These are great because you're able to run both image and video ads. On top of that, you can choose your own budget and the audience to target. This means that you're able to show your ads to your target demographic. Meaning you'll get the best results for what you pay.
New Members From Paid Ads Are Potential Referrals
You don't want to waste money showing your ads to people who aren't the right fit for your fitness studio. Targeting options allow you to show your ad to people within a certain radius of your studio. You can also target a specific age range, gender, interest, and more. From there, you can run your ads to a retargeting list. (more on that later).
Here's an example of an effective Facebook ad with a free week pass offer: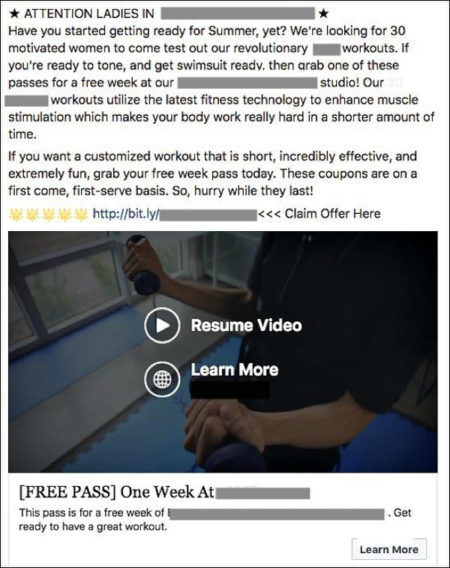 Notice how the headline says [FREE PASS] in all caps and brackets. This immediately captures someone's attention. The ad copy also talks about the free week pass. It also says that they're on a first come, first serve basis. This encourages people to take action more quickly.

Lead Generation Strategy #3: Retargeting
In strategy #2, we mention running ads to a retargeting list. This is a list of people who have visited your website or landing page. In other words, people who've shown interest in your business already.
As a consumer, you're retargeted all the time. For example, think about a time that you recently looked at a product online. Maybe you looked at shoes on Amazon. You found a pair you liked, and put them in your cart. But, you got distracted and closed out without buying them. The next time you're on another website like Facebook, you see ads for the same pair of shoes you were about to buy. That's retargeting!
This is a strategy that'll help you stay in front of people. They view your landing page to check out your business and your offer, but DON'T convert away. Most people don't buy the first time they see an ad or learn about a new business. It usually takes 5-7 impressions for someone to remember your brand. So, it's important to continue to show ads so that you stay top of mind when they are ready to buy.
Example of Retargeting
Here's an example of a retargeting ad that asks if someone is still interested in an offer. This is a good reminder and makes them more likely to click.
To track the people who view your landing page so that you can retarget them, you'll need to install a pixel on it. This is a snippet of code, and Facebook provides step-by-step instructions on how to do this.
These 3 strategies will help you generate more leads for your fitness studio. What other strategies do you use for lead generation? Let us know in the comments below!
And if you want to learn more about what we do to generate a ton of leads for studios each month, schedule a free strategy call and we'll walk you through our process.