Whether your gym or fitness studio has reopened or not, this is going to be the ultimate 4-step program to reopen your gym and experience membership growth and overall business success. The best part?
These are actionable steps that you can implement today. 
Since being able to reopen his gym at the beginning of May and, while running virtual fitness options, one offer has generated 3,860 leads for 35 fitness studios.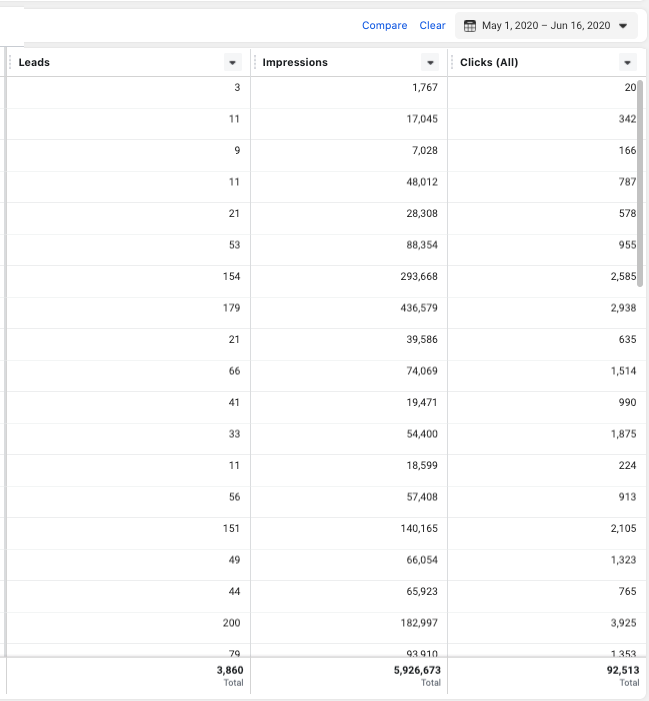 Here's exactly how you can reopen your gym successfully… 
Some of the first gyms were able to reopen as early as April 24, 2020. One of them was Rick Mayo's Alloy Personal Training near Atlanta and Rick joined me on The GSD Show to talk about it:
Three weeks after reopening, Rick's franchise got to 50% capacity in a short amount of time when it normally operated at 80% capacity.
While that's good, it's not where Rick wants, or needs to be for his physical locations… 
How can the fitness industry overcome this? 
When you have to operate at 30% less than what your business is used to on top of having to host class sizes at 75% less than what you used to because of social distancing, how can you generate enough revenue to be profitable?
This ultimate 4-step program will show you how to successfully reopen your gym.
Let's jump right into it… 
STEP #1: How To Reopen Your Gym with a New Mindset – CDC Guidelines, Legal Requirements, and What You Have That Competitors Don't
First, it's critical that you know and accept this when you reopen your gym: There's no such thing as "Getting Back To Normal."
Eliminate that from your mind immediately. 
Accept that you're living in a new reality and that you'll have to pivot in order to profit from now on.
I personally witnessed multiple fitness studios go out of business because they chose to wait it out instead of choosing to figure it out. 
It's heartbreaking and I don't want you to lose your business.
Nothing's more important than forward-thinking during difficult times.
So, let's break down step-by-step what your new reality is and how to make it work for you instead of against you.
How To Follow CDC Guidelines When You Reopen Your Gym
The CDC (Centers for Disease Control and Prevention) released its CDC: Reopening Guidance for Cleaning and Disinfecting Public Spaces, Workplaces, Businesses, Schools, and Homes. Here, they want fitness studios and gyms to:
Follow a strict routine cleaning schedule with soap and water to decrease how much of the virus settles on surfaces and objects to reduce the risk of exposure.

Use

EPA-approved disinfectants against COVID-19

to clean surfaces and objects frequently touched by multiple people to help reduce risk.

The CDC provides examples of other disinfectants, if EPA-approved disinfectants aren't available, like 70% alcohol-based solutions or 1 gallon of water mixed with ⅓ cup of bleach. But please, follow their safety protocols for making your own cleaners.
The Association of Fitness Studios (AFS) also has a great prevention checklist and we've boiled it down to its main points for you here:
High-touch surfaces need to be cleaned and sanitized before and after every class

Both members and employees need to clean equipment before and after use

Members need to sanitize their hands before entering your facility and before leaving

Members and trainers both need to practice 6-feet apart social distancing

If any member isn't feeling well, they need to stay home and do your virtual workouts

If any member has been in contact with someone confirmed to have COVID-19, they need to continue virtual training until they've been cleared by a doctor

Avoid circuit training where multiple members in one class touch the same equipment

Consider shorter classes and fewer members in a class to reduce exposure

Create separate class times for your most at-risk members, 60-years-old and up, and increase your social distancing beyond 6-feet for these special sessions

Communicate your policies, what you're doing to keep members safe via email, text, call, and posting guidelines inside your facility
In other words: 
Disinfect everything constantly.

Avoid as much contact as possible.

Continue social distancing with class sizes between 25-50% of regular capacity.
Now, if you're already open, at a minimum you should be following these procedures. Some of the most successful gyms and fitness studios go even further to stop the spread and protect their members.
Keep in mind: Yes, this hurts revenue. Yes, this hurts sales. And yes, we're going to teach you how to fix that in this ultimate 4-step program for how to reopen your gym. So, stay tuned! 
But first…
Reopen Your Gym With Disinfecting Policies Like Successful Gyms And Fitness Studios
Many reopening gyms and fitness studios are going to great lengths to protect their members, protect their staff, and to help stop the spread.
They're also following all local and municipal laws surrounding Coronavirus, which we'll get into in a bit.
Our friends at Orangetheory Fitness, with 1,000+ fitness studio locations across the United States, created what they call Back to Base.
It's a powerful rallying cry to get back to fitness, safely.
Orangetheory fitness will have smaller class sizes, limit members to using every other weight station, rower, and treadmill to keep in line with social distancing.

Their members will no longer be able to share equipment. Which, as Matt Kafora, owner of 7 Orangetheory Fitness locations says, makes them more valuable.
"Each spot is incredibly valuable now, so members have to reserve them ahead of time. So this means, if they late cancel, we unfortunately have to charge them an agreed-upon fee. Nothing astronomical, but that's a spot that someone else wanted and had to adjust their schedule around because another member canceled last minute. So, we charge a $12 fee," Matt Kafora says.
OTF members will also participate in touch-free check-ins

Members will be required to run through a verbal checklist to make sure they're not experiencing any Coronavirus symptoms.

Orangetheory staff will make sure equipment is completely disinfected before and after every single class.

OTF staff will also complete a nightly deep, disinfecting clean as well.
Loud Rumor members SOLDIERFIT are following similar protocols with a bonus you can use when you reopen your gym: Outdoor classes.
In fact, SOLDIERFIT Hagerstown runs advertising for their outdoor classes and they're doing really well.
They generated 145 leads at a $4.09 Cost Per Lead. 
Take a look:
SoulCycle also follows strict protocols. While they're not requiring their members to wear masks, SoulCycle is also practicing deep cleaning, disinfecting between classes, and social distancing.
And finally, there's Loud Rumor Member and good friend of mine, Bob Algard, Owner of Solid Rock Training, quoted in this MindBody Article saying: 
Just because times are different, doesn't mean your business has to struggle or you can't reopen your gym successfully.
Eliminate The "I Just Want My Fitness Studio To Get Back To Normal" Mindset
I mentioned this earlier, but I need to break it down in more detail before diving into the Legal aspects to reopen your gym or fitness studio…
After going through the CDC recommendations for disinfecting your fitness studio and what other popular gyms are doing, this probably already feels pretty daunting, right?
If you've been thinking, "I just want my fitness studio to get back to normal." I need you to stop and here's why: There is no "back to normal." This, for now, is the new era of fitness and it began before you reopen your gym.
Your members and your employees need you to lead them with a growth mindset.
Later in this How To Reopen Your Gym: The Ultimate 4-Step Program, I'll share with you a really cool Case Study about Lady Strong Fitness, an independent gym near Chicago, IL.
The owners of Lady Strong Fitness went from fear and panic when they were forced to close their doors to a figure it out, GSD (Get Sh!t Done) mindset that helped them save their fitness studio.
I'll get into that case study in a little bit, but I wanted you to know and see the importance of changing your mindset and eliminating "I just want my fitness studio to get back to normal."
That mindset will pull you backwards and maybe even end your business.
This program is about helping you grow and experience greater success long after you reopen your gym.
5 Legal Essentials To Reopen Your Gym Or Fitness Studio
This is a list of 5 Legal Essentials from our friend and fitness studio attorney, Cory Sterling. Cory and his team actually created a downloadable checklist which we put into an image for you.
#1 Learn and Follow All Municipal Laws
Make sure you strictly adhere to your jurisdiction's laws and rules because if you don't, someone could easily make a negligence claim against your gym.
This would expose you to liability. Following these rules will help protect your business.
Legal Tip: Record a Zoom call where you explain and discuss these rules with your employees. Also, post these rules inside your studio where both members and employees can see them.
#2 Cover Your Butt So You're Not Responsible If Someone Catches The Virus At Your Gym
No, Cover Your Butt isn't technically "legal language," but it's important. One thing you DON'T want is a member getting the virus at your fitness facility BUT, the LAST thing you want is for them to blame YOU for it.
Legal Tip: As of right now, it appears a lot of people with this virus are asymptomatic according to NBC News. So, make sure you have proper waivers in place. You can get those by contacting Cory Sterling and his team at Conscious Counsel.
#3 Fitness Studio Owners Should Get Their Employee's Voluntary Participation In Writing
Employees can come back to work at their own risk.
Don't be on the hook with an employee who claims they were forced to come back to work before they were comfortable and then they contract the virus.
Legal Tip: Even if you don't believe for a second that one of your employees would ever do something like that, (A) it's better to be safe than sorry and (B) they'll have no problem signing a document about it.
#4 Update Your Gym's Service/Membership Agreements
Many fitness studio owners were hit with chargebacks and refund disputes because their membership agreements were outdated. Many studios kept charging members after those members froze or canceled, but that's not what we're talking about here.
Legal Tip: Simply defining your services as BOTH online and in-person means you are always able to provide your services. Therefore, no one is entitled to a refund on the grounds you cannot offer your services… because you can! 
Another example is having a force majeure clause in the agreement to help you contest chargebacks and refunds. 
#5 Have Members Re-Sign Their Agreements
The way in which we conduct business in the fitness industry has shifted, making it more important than ever that our legal documents are proactive in their language to deal with all possible situations and potential outcomes.
Legal Tip: This doesn't mean your documents should be scary. In fact, Cory's team can help them be fun and uplifting. We're all in this together and moving forward.
Your goal in all of this is to help your members feel as safe and comfortable as possible while also protecting your business.
Our friends and partners at UpLaunch have a great article helping you communicate with new and existing members without scaring them when you reopen your gym: You're Ready To Re-Open. Are Your Members?
Speaking of things that shouldn't be scary: This pandemic, as terrible as it is, has allowed fitness studios to push forward into a brighter future that other businesses could never have dreamed of.
That's what this next part is about, so let's dive right into it.
The Post-Pandemic Future Of Fitness Studios Is Very Bright
The fitness industry was just thrust 10 years into the future.
What if I came to you, a fitness studio owner, a year or two ago and suggested you launch an at-home, virtual fitness option? I'm guessing you probably would've laughed in my face.
You would've told me how people love your fitness studio, how you've built a community, how you're near capacity and might open a second or third location… 
So why in the world would you create a virtual option?
Then, mid-March, everything changed and a virtual fitness option became a necessity just to keep your business alive. 
None of us saw this coming. But, there's something else we never saw coming…
New revenue.
How Fitness Studios And Gyms Profited With Virtual Fitness
525 fitness studio owners and managers who I personally know and work with continued putting money into their businesses since mid-March.
481 of them are fitness studios that continued generating revenue through their virtual fitness options. 
The remaining 44 decided on alternative routes.
In a survey, 36% of fitness studios added up to 99 new paying members within a 76-day timeframe during the pandemic.
The average price of those 99 new paying members was over $80 every month in recurring revenue.
Another 40% of fitness studios added up to 25 new paying members in that same timeframe.
What was the average advertising budget for these fitness studios during all of this? $1,686.51 per month.
That might seem like a lot at a time when nearly all of these gyms were forced to close their doors, but it worked!
At the time of this survey, the average Cost Per Lead was down nearly 32% of what it was in January and February of 2020. But get this:
At its lowest over the course of those 76 days, the Cost Per Lead was down by as low as 25X less than the averages seen in January and February!
Many of the studios we work with were used to seeing an average Cost Per Lead of $15.50 and at the lowest during this 76-day timeframe saw Costs Per Lead of $0.62.
Crazy. THAT is why they chose to put money into advertising. It gets better…
Most of these fitness studios noticed a higher closing ratio than the typical 4%, which gave them a better Cost Per Acquisition than they saw before mid-March, too.
Many of these studios have reopened and continue seeing incredible Costs Per Lead, new members, and revenue growth despite their new normal of social distancing, smaller class sizes, lower capacity, and lower community-building, person-to-person interaction.
Why am I presenting this data to you? 
Advertising is ALWAYS necessary and WORKS

Virtual Fitness is a MASSIVE hit with members

There's plenty of hope to generate revenue during your NEW mindset
The Boutique Fitness Studio and Independent Gym Industry Has Something Competitors Don't
Some of the biggest fears for the boutique fitness studio and independent gym industry having to go virtual were…
What about Beachbody? They own this market.
Or Peloton? They own luxury home workouts.
Workouts on YouTube? They have home workouts, too.
So many fitness business owners ran with these fears that they neglected what these at-home fitness powerhouses DON'T have!
They don't have LIVE workouts with family and friends
These brands don't have LIVE instructors encouraging members by name
And most importantly, they don't have a UNIQUE online community and atmosphere
YOU have all of that and it's what makes having and running a profitable virtual fitness option just as important after you reopen your gym as it was when the pandemic forced you to close it.
Here's my final thought before STEP #2: Learn How To Reopen Your Gym From Successful Fitness Studio Owners… 
Remember earlier when I said you have to eliminate the "I just want my fitness studio to get back to normal" mindset? This is the next mindset you'll need to eliminate when you reopen your gym…
Get Rid Of The "But This Is How We've Always Done It" Mindset
As you've probably noticed, I've put a lot of effort so far in helping you understand that the past is gone and this is your new normal. Here's why:
Because this is how business owners evolve and start building a new future full of possibilities.
What worked in the past might not work in the present and there's a high likelihood it won't work in the future. 
Which means, saying, "but this is how we've always done it" isn't a forward-focused mindset.
When this pandemic hit, every gym owner was forced to do things differently. The way they always did things no longer existed. They had to pivot or fail. They had to find the path forward.
Lady Strong Fitness and its owners Brittany Welk and Marciea Allen are an incredible success story. They put the right mindset into action…
STEP #2: Learn How To Reopen Your Gym From Successful Fitness Studio Owners
One of the best ways for fitness studio owners to grow as leaders is to learn from studio owners who are getting it right.
To learn from gym owners who've overcome hardship and came out the other side successful, stronger, and more knowledgeable.
Meet Brittany Welk and Marciea Allen, owners of Lady Strong Fitness in Schaumburg, Illinois.
Maintaining Fitness Studio Revenue During Difficult Times
Before the pandemic closed down their gym, Lady Strong Fitness had 236 members.
When news came that they'd have to shut their doors, fear and sadness set in… 
Can we continue paying our staff?
How will we pay our rent?
What can we do to keep helping our members?
ARE WE GOING TO LOSE OUR BUSINESS??
Do these questions sound familiar?
Before I continue with Brittany and Marciea's story, I need you to know why I'm telling it in the first place… 
With their studio about to reopen, they're sitting at 233 active members. Just 3 shy of where they were pre-pandemic.
To give you more perspective, 236 members pre-pandemic made Lady Strong Fitness a very successful fitness studio… 
So, to be able to reopen with 233 active members after maintaining an average of $27,000 in monthly recurring revenue when their doors were closed? Unbelievable.
From Fear To Taking Action To Save Your Business
How did they do this?
It wasn't easy…
I remember when I called Brittany to see how she was doing with having to close her doors and how I could help her pivot into an online option to keep her business running.
Brittany was devastated. "I would say that I had more anxiety and worry," she says, "but Marciea is quite resilient and has been through many challenges in her life, so she took this one like a champ."
We talked through everything. Working with her landlords to set up deferred payments, working through equipment rentals, and of course, building a virtual fitness option immediately.
Brittany remembers how she felt. She was taking this info in, seeing Marciea's strength, and "it took me about 48 hours to move past the anxiety and worry I was feeling to that moment of Alright! That's it! Let's do this!"
What was it that drove her and Marciea to figure it out instead of wait it out? 
"We knew we had to make things happen because otherwise, we'd be looking back at our studio wishing we would've done something sooner… or worse, we'd be looking back at how we lost our business," she says.
Let's break this down and what taking action, pivoting to a virtual fitness option did for their studio, and why they're in a position to reopen their gym successfully:
236 Members BEFORE having to close their doors

233 Members BEFORE reopening their fitness studio

44 of those Members are virtual and living outside of Illinois in places like:

Arizona
Minnesota
Florida

$27,000 average in MRR maintained during the pandemic
Brittany and Marciea have an incredible story of resilience during the pandemic.
If you can believe it, that's just one fitness studio success story you can learn from. 
There are so many more—from SOLDIERFIT and ToneBarre to F45 Training, Orangetheory Fitness, and SPENGA—for you to learn from in the Loud Rumor Members Only Facebook Group.
Let's move on to STEP #3.
Here's how you can reopen your gym with a solid number of members despite your doors being closed for several months… 
STEP #3: Keys To Get More Members When You Reopen Your Gym Or Fitness Studio
If you've already reopen your gym and you've been disinfecting, social distancing, communicating, but still operating at dramatically lower membership numbers than you were before the pandemic hit…
—OR—
If you haven't reopen your gym yet, have your disinfecting plan and legal waivers in place, but worry that members won't come flooding in…
THIS SECTION IS FOR YOU!
The #1 Offer That Generated 3,860 Leads For 35 Fitness Studios
Before I jump into what the offer is and why it works so well for BOTH physical gyms and virtual fitness studios, I want to show you examples of how well it's worked for a variety of studios.
You should also know that this has been the best running offer before the pandemic hit and has proven it'll be the best running offer long after.
As I mentioned earlier, fitness studios that kept advertising even when their doors were closed, saw the most amount of success.
That's why I teach owners time and time again: A.B.A.
It stands for Always Be Advertising.
10 Successful Fitness Studio Facebook And Instagram Advertising Campaigns
The fitness studios that ran Facebook and Instagram ads during the pandemic and that are now running reopening ads are seeing some serious traction.
Just wait until you see some of the results Loud Rumor Account Manager Alexa was able to achieve with a few of the gyms she works with… it's pretty ridiculous.
Now keep in mind, the examples I'm about to share with you aren't typical for every campaign.
A lot of factors go into a campaign's Cost Per Lead (CPL): Location, demographic, surrounding competition running ads, and much more.
However, on average, our members are seeing around a $14 cost per lead… which is still an incredible CPL!
On the higher end of the spectrum, F45 Mataire Central saw their lowest CPL at $16.43. But, with that campaign, they got 221,007 impressions and 114 new leads:
Even niche studios like BODYBAR Plano and Dallas generated leads at low costs.
Loud Rumor Account Manager McKenzie manages both locations and for Plano, her Facebook and Instagram ad campaigns saw a CPL of just $11.76:
BODYBAR Dallas saw an even lower CPL at $5.45 for their "Kickstart Your Routine" video campaign:
SPENGA Highlands Ranch saw incredible numbers working with their Loud Rumor Account Manager James.
They're set to reopen successfully because they invested in advertising. These numbers are incredible.
They offered a FREE SESSION and their Cost Per Lead was only $5.84! Their spend earned them 12,225 impressions and 19 leads in just 4 days:
In that same 4-day period, with multiple studios reopening, James worked with SPENGA Beckett and they saw a crazy 26,468 impressions, $6.52 per lead, and 24 leads:
Belfort Fitness Lifestyle, another gym Loud Rumor Account Manager James works with has a low $10.45 CPL, 20 leads in the pipeline, and they got in front of 19,909 people in just 4 days:
People are so hungry to be part of a LIVE fitness community, whether it's virtual or in-person. Many of the ads you're seeing are for virtual and reopening campaigns.
Your new members are out there. They're ready for you to reopen your gym. They're ready to join you in-studio and online.
Are you making sure they can find you when you reopen your gym?
Let's dive right into Loud Rumor Account Manager Alexa's remarkable, Facebook and Instagram ad campaign numbers for some of the gyms and fitness studios she works with… 
SOLDIERFIT Rockville saw an average—AVERAGE—Cost Per Lead was $4.91 with the lowest ad having a $4.06 CPL. Their total reach was 23,270!
3Minute Fitness out of New Albany, Ohio saw a CPLs as low as $5.08 and $5.22 since mid-March and a total of 270 leads.
Pride Fitness saw its lowest CPL at $4.09 for a photo video ad and generated a total of 90 leads at an average $7.52 Cost Per Lead with 25,025 potential members reached.
Incredible, right?
But wait…
I had to save the best one for last and again, these are rare numbers, but it's too good to NOT show you.
With Alexa's help, fitness studio 1 MORE ROUND experienced an astonishingly low average CPL of $1.99 with their lowest being a mere $1.65.
That's insane!
On top of that, they generated 99 total leads.
Again, whether it's $20 CPL or $7 CPL, the leads are there.
It's almost impossible to get new members to your gym or fitness studio without Marketing.
You should Always Be Marketing. 
Of course, to see the best results, you need the best offer… 
The Best Advertising Offer Successful Gyms And Fitness Studios Are Running
Free.
That's it.
Free.
Offering a FREE WEEK PASS, FREE 7-DAY PASS, or FREE SESSION when you reopen your gym or to your virtual fitness studio is the absolute best advertising offer you can run.
Here's an example of one for BODYBAR Dallas which I mentioned earlier:
Here's an example of SPENGA Beckett's FREE SESSION offer:
Finally, here's the visual of that 1 MORE ROUND ad that crushed it with a FREE WEEK offer:
Keep in mind, when you're marketing your gym's reopening, people might like to know what you're doing to keep them safe and keep your facility clean. HOWEVER…
You don't need to mention that in your advertising. Instead, you want to mention it on your Landing Page after they click on your FREE WEEK PASS ad. Just be sure to keep it upbeat and simple.
Here's some example Landing Page copy:
Notice how this landing page doesn't mention the pandemic? There's no need. Everyone will know what you're talking about and it keeps things light, yet informative.
Here's the truth, and many of Loud Rumor's members can confirm this, most people don't want to talk about it… they just want to get back to working out and getting on with their lives.
To really maximize your fitness studio's reopening marketing and generate more leads and more revenue, DOWNLOAD our 4-Step Facebook Ad Cheat Sheet. 
Ok, so that's proof that the leads are there, that studios are generating revenue, and that FREE offers work… so how do you convert those leads into paying members when you reopen your gym?
3-Keys To Sell More Memberships When You Reopen Your Gym Or Fitness Studio
It's time to convert all of those Facebook and Instagram advertising leads into paying fitness members. Here are the 3-keys to doing just that:
Key #1 – Your Gym Has 3 New Pricing Options With Physical, Virtual, and BOTH – Use The Decoy Effect
First, don't overcomplicate your pricing. Keep it simple and decide which price will benefit your fitness studio the most, long-term.
HINT: Right now, it's probably a combo of your physical and virtual fitness memberships.
Second, make the pricing that benefits your fitness studio the most too great of a deal to pass up.
See how great that $99 per month deal looks? Plus, from what we're seeing with the gyms we work with, $99 per month is crushing it right now.
DOWNLOAD The 3-Step Decoy Pricing Cheat Sheet
But remember, keep it simple…
Key #2 – Don't Lose A Gym Member Over A $1 Sale – Advice From Grant Cardone
Arguably the top salesperson in the world, Grant Cardone joined me on The GSD Show to talk about selling in a post-pandemic world.
As Grant says, "You're really going to haggle over $1 right now? Make the deal."
His advice for gym owners and salespeople? "If someone you're speaking to is unemployed, let them work out for free…" give them access to your recorded workouts.
Why would your gym do this?
Will people take advantage of your gym?
Maybe.
But here's what Grant Cardone says is key, "What matters is serving them, HELPING them, so that they only want to do business with YOU." 
In other words, when you fully reopen your gym while you're running a full-scale virtual option, and they're back on their feet, they're not going anywhere.
Reopening right now is not a walk in the park and most gyms are not seeing a mass influx of members coming in. We need to work with members and prospects, not against them.
Which, as Grant makes very clear, means: "Make the deal."
Key #3 – Your 3-Step Sales Playbook For Growth After You Reopen Your Gym
Add these three steps to your DAILY sales process and you can't go wrong. Here we go:
Sales Playbook Step #1 – Contact New Leads Within 5 Minutes
I've been telling people to do this for years and it applies now more than ever.
A powerful sales study by Lead Response Management and an MIT Professor revealed that if you fail to contact a web-generated lead within the first 5 minutes, your chance of actually getting in contact with them plummets 900%.
900%.
So let's backtrack a bit…
You run a FREE WEEK PASS Facebook Ad Campaign.

Someone comes across it and is interested in getting in better shape.

They click on the button and it takes them to your Landing Page.

Your Landing Page talks about getting them in great shape…

It also talks about how you're disinfecting your gym.

They fill out your form and click "Submit"
Now what?
CALL THEM, TEXT THEM, OR BOTH.
Period.
Don't waste that crucial 5-minute window of opportunity.
Pro Tip: If someone fills out your form after hours, simply set up texting automation guiding them to booking a call with you. You can do this with awesome texting automation services like Text Request, ZipWhip, or Ripple SMS.
Bonus Tip: For Text Request, if you text the word "Loud" to 423-218-0111, you'll get a $49 refund. 
Sales Playbook Step #2 – Contact Every Paused Or Canceled Member To Tell Them Your Gym Reopened
It's time to get paused or canceled gym members back in after you reopen your gym.
We talked about pricing earlier and many of you probably have lower prices coming out of this pandemic… use that to your advantage.
Call, email, video text every single member who paused or canceled when you closed your fitness studio and let them know that your gym reopened and what's new.
Think about it this way: This is an incredible list of people who loved your studio enough to pay full price just a few months ago. So…
When they find out your prices are lower, you have an elite virtual studio option, and you're following strict CDC disinfecting guidelines to keep everyone safe, they'll be ready.
At Loud Rumor, we reached out to our paused and canceled members with a special rate, which we've never done before, and we brought back 9% of them.
That might not sound like a lot, but seeing as all of us, as business owners, are rebuilding our bottom lines, $17,829 in monthly recurring revenue is a whole lot better than $0, right?
Just imagine for a second that you could bring back 9% of members who paused or canceled because of the pandemic… 
Let's say you had 300 active members and lost 40% of them. 
But, just by reaching out to them and offering a discounted rate of $99 per month, you were able to bring back 9% of them either in-studio, virtual, or both.
That's $1,069.20 in monthly recurring revenue your business wouldn't have if you didn't reconnect with those paused or canceled members.
And keep in mind, that's just from the pandemic. At a 10% annual retention rate, I'm guessing you have way more paused or canceled members to start reaching out to.
Sales Playbook Step #3 – Remember That Members Want What They've Always Wanted
During the pandemic, we generated 13,477 leads for 128 fitness studios.
In less than one month of reopening, we generated 3,860 leads for 35 fitness studios with a single offer.
What does this mean?
In good times and bad, members want the same thing they've always wanted: To get fit.
Remember that, talk to them about that, and convince them that your gym or studio is the place where they can achieve that.
This is so important when you're growing and increasing memberships after you reopen your gym.
Yes, people like knowing that you're keeping your fitness studio clean.
Yes, people like knowing you have a virtual option they can take advantage of.
But more than that, they want to get fit.
On top of that, it's important to remember that their fears are the same as well:
Will I be able to keep up with the other members in class?
Is anyone going to talk or interact with me since I'm new?
What if I wear the wrong type of clothing when I show up?
Am I going to be able to find and use the bathroom there?
Again, your gym is the place where they will feel comfortable, the place where they'll be part of a unique community, and of course, the place where they'll reach their fitness goals.
Ok, now that your gym is armed and read for reopening success, you'll want to prepare it for future disasters so you don't have to struggle so much in the future.
I know, that sounds harsh but let's be honest, if we knew or had prepared for something like this pandemic or an economic crash, would we have panicked?
Probably not.
Too many fitness studios went under because of this and I'm on a mission to prevent that from ever happening again.
Following Steps 1-3 and now Step 4 will help you cross that finish line.
Next time the world gets turned upside down, you'll be the type of leader that stands up straight, shoulders back, and says, "I've got this. Let's GSD!"
STEP #4: Protect Your Fitness Business From Future Economic Downturns
No one saw this pandemic coming and no one ever thought or believed their gyms would be closed for an unspecified length of time… it was devastating.
What I and many of the world's top economists and leaders, including people like Warren Buffett and Tony Robbins, did predict was that an economic downturn was coming.
It's why I created GSD 360.
I wanted to help gym owners live in the future and protect themselves against future economic downturns.
I wanted to help YOU become a knowledgeable, prepared business owner.
Why?
I started Loud Rumor in the middle of the 2008 economic crash. It was rough.
I can't speak for all of you, but many of the fitness studio owners I work with had careers in fitness and decided to open a gym or had careers outside of fitness and decided to open a gym... but none of them ever owned a business before.
Many of them, like myself, had to learn the hard way just how difficult owning a business truly is.
And, for all of us, this pandemic was a wake-up call that we all need to be better prepared when sh*t hits the fan.
Here's how to do just that…
Run Your Virtual Workouts Indefinitely And Treat It Like A 2nd Business
Virtual fitness was NOT a stop-gap to get through the pandemic.
Yes, it saved hundreds if not thousands of gyms from going under, but it made something very clear to the top 5% of fitness studios my company Loud Rumor works with:
Virtual Fitness Is 100% Here To Stay
In fact, in my interview with Fit Body Boot Camp (FBBC) Founder and CEO and author of the book Man Up!, Bedros Keuilian told me, "We're keeping our virtual fitness option indefinitely."
I've already explained why the boutique fitness studio and independent gym industry has a distinct advantage in the virtual fitness space… especially with Elite Virtual Studio.
Now I want to show you why it's a brand-new business you need to keep running even after you reopen your gym:
128 Gyms generated 13,477 leads for their virtual fitness option since March 18th, 2020. What's crazy is that those numbers are trending upward even as those studios reopen.
In other words, virtual fitness has its own market and your fitness studio needs to generate revenue from it.
On top of that, you'll want to retain those members and in-studio members as long as possible… 
Retain Gym Members Through Good Times And Bad After You Reopen Your Gym
As you saw earlier in our Case Studio with Lady Strong Fitness, they retained 80% of their members through this pandemic and added an additional 18% with their virtual option.
They did that by building a unique, unbreakable bond with their members… and they're not alone.
Our friends and partners at MINDBODY did a study that found the average fitness studio retains only 10% of new members over the course of the year.
However, the best fitness studios retain 30% of new members over the course of the year.
Why the 20% gap in retention?
HINT: It's NOT the workout.
What the best fitness studios have figured out—studios like F45, Orangetheory Fitness, and SPENGA—is that retention is relationships.
Here's Your Gym's Retention Relationship Checklist
In order to retain virtual fitness members and physical fitness members long after you reopen your gym and well through the next economic crisis, you need to:
Make time to chat with and really get to know members on an individual level every day

Correct a member's form during class and check-in on their habits each day

Create group hangouts, happy hours, and fun activities outside of working out

Celebrate members' birthdays and have everyone join in on the celebration

Treat each member like they matter—as individuals, as people, as family
The next one might seem odd, but it's proven…
Make Members Buy More Than Your Fitness Studio's Membership
Wait, we have to get them to spend more money in order to retain them? How does THAT work?
It's true!
At an IDEA World Convention, one of the speakers discussed a 3-year study.
They found that gym members who purchased 3 or more products over the course of 6 months, experienced an 80% greater retention rate with those members.
Frank Nash is a force to be reckoned with in the fitness industry. He owns STRONGER Personal Training and he joined me on The GSD Show:
Selling supplements and water helps Frank earn 6.5X more profit while retaining his members 2.5X longer than the industry average.
Upselling and cross-selling are vital retention boosters.
That's powerful. It shows a commitment to your studio beyond working out.
This next part of STEP #4: Live In The Future And Protect Your Fitness Business From Future Economic Downturns is all about YOU… the fearless leader.
Even The World's Greatest Coaches Have Coaches
Personal growth and development are vital to your success as a gym owner.
I have 6 highly-qualified coaches for various aspects of my life and business and I consider them invaluable to my personal success, my company's success, and our ability to thrive regardless of what the economy does.
Do you have a business coach or performance consultant?
The most successful studios we work with are GSD 360 TEAM members and they work directly with one of our performance consultants like Corbyn May, who I mentioned earlier.
Whether your fitness studio has reopened yet or not, a coach is a must.
Financial Strategies Every Gym Needs To Set Them Up For Reopening And Long-Term Success
One of the most important aspects of your fitness business's financials is confidence.
Having confidence in how you're handling your money and your margins will help you when times are tough again.
While the financial aspect of your business can get murky and complicated, the Founder of Accountingprose Tina Garza says, "When you really boil it down it's like anything else: Money in versus money out."
However, Tina says where most gym owners go wrong is they don't have a detailed understanding of what's coming in versus what's going out.
"A really healthy net profit for a fitness studio is around 15%," Tina says, "Now you might have 12% one month and 20% another month, but as long as you're in that range, you're good."
Tina breaks this down even further to help you understand the true financial vision of your fitness business:
20% of your revenue is spent on Costs Of Goods Sold (COGS)
80% of your revenue is Gross Profit
-Advertising Costs (Remember: A.B.A.)
-Operating Costs
-Payroll (Including You) Costs
-Savings (Beef this one up before the next financial crisis)
=15-20% in Net Profit
Now the ultimate question: How many members do you need for your business to not just survive, but thrive?
Take that number and set a higher goal. Then, do the same thing for your virtual fitness option.
Here's the beauty of running your virtual fitness option as a secondary business: Your operational costs are extremely low. 
That's why it's so vital to build an elite virtual studio that can withstand economic storms.
If you've made it this far, you know how much work I've put into this for you and how comprehensive this How To Reopen Your Gym: The Ultimate 4-Step Program truly is. But…
---
---
BONUS: If You Only Get Three Things Out Of This Ultimate 4-Step Program To Reopen Your Gym
There's a lot of information and actionable steps in this program to help you experience serious growth and success when reopening your gym or fitness studio… it's a lot to take in.
So, in addition to the FREE PDF VERSION I mentioned above, I want to give you 3 quick action items that I believe you need to do right now:
#1 – Open a Virtual Fitness Studio Now
If you're not sure how or where to start, my team will actually build a fully-branded virtual fitness option for you. All you have to do is flip the switch: Elite Virtual Studio.
#2 – Focus On Marketing & Sales
Run FREE WEEK PASS ads and Landing Pages for both your reopened gym and your virtual fitness option, contact leads within 5 minutes, and make sure your team has its script down!
#3 – Be MORE Than Just a Fitness Studio for Your Members
Each member is an individual with their own struggles, hobbies, etc. Be there for them as a compassionate friend in addition to helping them reach their fitness goals.
Now, I Want To Hear From YOU…
What is the #1 strategy from this program that you're going to implement first? 
Always Be Marketing? 

Your "New Normal" Mindset? 

Evolving Your Virtual Fitness Option?
Let me know by emailing me at [email protected] or chat with me about it on Facebook, Instagram, or LinkedIn. 
Cheat Sheets:
loudrumor.com/facebook-cheatsheet
loudrumor.com/decoy-cheatsheet
https://www.fitnesssellingsecrets.com/
References:
https://www.cdc.gov/coronavirus/2019-ncov/community/reopen-guidance.html
https://www.epa.gov/pesticide-registration/list-n-disinfectants-use-against-sars-cov-2-covid-19
https://www.forbes.com/sites/gabbyshacknai/2020/05/26/what-to-expect-from-luxury-gyms-and-fitness-studios-as-they-reopen/#5328f6aee6e4
https://www.member.afsfitness.com/content/afs-reopening-guidelines
https://mindbody.io/blog/latest/yoga-fitness-studios-reopening-post-covid-19
https://www.uplaunch.com/post/reopening-communication
https://www.ideafit.com/fitness-conferences/idea-world-fitness-convention/
http://www.leadresponsemanagement.org/lrm_study
Friends and Partners:
https://ladystrongfitness.com/
https://www.legalwithcory.com
http://www.accountingprosepromo.com
https://www.textrequest.com/
https://www.ripplesms.com/loudrumor/
https://live-zipwhipv2.pantheonsite.io/lp/loud-rumor/
Resources:
https://agencygsd.clickfunnels.com/schedule-a-call1591647340257
https://www.loudrumor.com/podcasts/bedros-keuilian-reopening
http://www.whatislrvt.com
http://www.elitevirtualstudio.com
Podcast Episodes:
Grant Cardone: https://www.loudrumor.com/podcasts/grantcardone
Bedros Keuilian: https://www.loudrumor.com/podcasts/bedros-keuilian-reopening
Rick Mayo: https://www.loudrumor.com/podcasts/raw-16
Tina Garza: https://www.loudrumor.com/podcasts/cristina
Frank Nash: https://www.loudrumor.com/podcasts/raw-8