Facebook ads and Google AdWords both have huge benefits when done the right way, but they're used in different respects. If you don't already use Facebook ads to generate leads for your fitness studio, you lose out on getting your business in front of a ton of potential new members.
Facebook ads generate a ton of leads when you use them the right way.  But before we dive into why, let's take a look at the difference between that and Google AdWords:
Facebook Disruptive VS. Google Responsive Advertising
Facebook ads are a form of disruptive advertising, meaning these ads get your business in front of people in your target demographic who aren't necessarily seeking out a fitness studio at the given time that they see your ad.
When you run a Facebook ad, for example, people see it while they scroll through their News Feed. They aren't actively looking for a new studio, but they see your ad with an offer that catches their attention like this: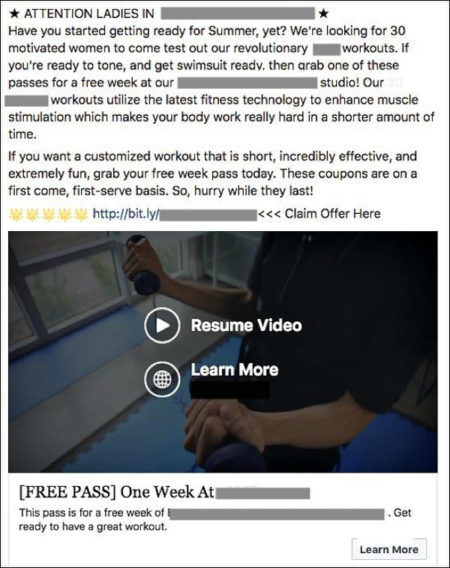 Google AdWords, on the other hand, is an example of responsive advertising. You bid on keywords that you want your fitness studio to show up for in search results. People see these ads when they actively search for a fitness studio. Google responds to them with options that match their search. Here's what this looks like in a search:
Google AdWords can be great in certain instances. When people purposefully search for your service, you want to be at the top. Google AdWords helps do that. But what about all the people who aren't actively thinking about your service who would still benefit from what you have to offer? That's where you get in front of them with Facebook ads – your direct lead generation machine.
A survey by Social Media Examiner found that 94% of marketers use Facebook ads regularly,  and for good reason.  Here's why Facebook ads are so powerful:
Facebook Has Impressive Reach
With 1.83 billion daily active users, Facebook's potential reach is huge. There are more users on Facebook than any other social media platform, and that number continues to grow annually. No other platform has as many users with as detailed targeting options as Facebook.
On top of that, Facebook owns Instagram, which has 1 billion monthly active users. So you also have the option to run ads to people on Instagram using Facebook Ads Manager, which gives you an even bigger potential reach.
People Can Easily Share Content
When someone gets excited about a great offer they want to take advantage of, more often than not they also want their inner circle to see it too. So if they share your ad, that person's friends/family see your offer as well. This is great for you because views on shared posts don't cost anything. The more people share your post, the more others see your ad for free.

The more engagement that your ad gets, the better it'll perform because it increases your relevance score. Shares really help with this and your ad has the potential to reach thousands of more people. A relevance score is a number that Facebook gives your ad between 1 and 10. It's based on the positive and negative feedback they expect an ad to get. Depending on the type of campaign that you run, a higher relevance score also lowers your delivery cost. To learn more about relevance score, check this out.
Facebook Has Incredible Targeting
The targeting options on Facebook are really powerful. They allow you to get your ads in front of your ideal demographic so that you don't waste money showing ads to people who aren't a good fit for your fitness studio.
Some of the targeting options include:
Location (by address, zip code, city, state, etc.)
Age
Gender
Interests and behaviors
We've found that fitness studios who target women between the ages of 25 and 55 get better results than targeting women 18-65+. More specifically, targeting women between 28 and 42 is typically most effective, but this varies from location to location.
There are a couple reasons for this:
People between the ages of 18 and 24 generally don't have enough discretionary income to spend money regularly on membership packages.
People who are 65+ don't convert very often on social media.
Women also generally convert at a higher rate than men do – as much as 4X. This is likely due to how active they are on social media compared to men and because women are much more likely to engage with a post.
Here's an example of a barre studio in Round Rock, Texas that specifically targeted women and had awesome success with their campaign. This studio ran an ad with an offer for one free week of classes, specifically calling out women in Round Rock. Within the first month of running this offer, they had 411 leads with a cost-per-lead of just $1.18. This is the power of Facebook ads.
Google AdWords, on the other hand, offers different targeting based on keywords. Your ad is shown when someone does a search for the keyword that you bid for. However, this usually comes at a lower reach and higher cost per lead.
If you want to get more leads in your target demographic like the boxing studio and the barre studio did, test out Facebook ads. Once you generate new leads, use these sales strategies in our free guide: