Are you struggling to get people through the doors of your gym or fitness studio? Do you have an idea of what you need to do, but aren't sure where to start? If so, this gym sales strategy guide is for you. Here, we'll cover everything from setting the right pricing structure to utilizing digital marketing tactics to grow your gym. Through a combination of strategy and effort, you'll be able to increase your membership base in no time. This is your complete gym membership sales strategy to convert online leads into paying gym members, increase revenue, and most importantly, feel confident with your sales process.
You'll want your entire team to read this. This gym sales strategy guide aims to help everyone at your fitness studio turn unsure leads into raving fans.
When executed properly, this sales strategy has the potential to help your gym close more sales than you previously thought was possible.
Here are all 11 steps to sell more gym memberships.
Basics: What Your Gym Is Selling Versus What It's Not Selling
First things first, you need to make sure that you believe in your gym's purpose and that every product you're selling is designed to help your members get better results.
If it's not, or you yourself are not bought into it, it's going to be really difficult to sell it.
Keep this in mind, you're NOT selling memberships…
You're selling a place, a program, supplements, etc. that can change someone's life for the better.
It's important to know this and believe it.
You might be missing a lot of sales because you and your team are either not bought in, don't have a detailed sales strategy, or both.
If it's your sales strategy, it could be because the team:
Doesn't think it's important

Maybe doesn't really appreciate it

Doesn't respect the sale process

Isn't educated enough on why it's necessary and why it works
Luckily, this definitive sales strategy guide can help you overcome this and dramatically improve your sales performance.
"The Close" Isn't The Most Important Part of Gym Sales Strategy
I recently made all of these changes to my sales strategy with my team and the results have been incredible.
There are a lot of moving parts to a sales strategy but they're all equally important.
Like in basketball, the game-winning shot doesn't happen without the game-winning pass, the pass before that pass, and the plan that was drawn up and executed to win.
Many people think "The Close" of a sale is the most important part because that's where the deal is made, but what good is a member if they cancel the next month?
Sales is everything it took to get the close and everything that happens after. It has an impact on every part of your business.
So the question isn't, "How many sales are you CLOSING?"
The question is, "How many sales are you LOSING, compounded month-over-month, that's damaging your gym's ability to grow?"
It's a loaded question, but it's the key to your gym's success. On top of that, it's the key to you feeling fulfilled as a fitness business owner.
Ready to start WINNING more sales for your gym? Let's jump right into your 11-step sales strategy:
STEP #1 – Master Your Fitness Studio's "Pre-Selling" Strategy
This step helps you prevent cold-calling to focus on people who are interested in getting in better shape, who want to be part of your community, and who need a gym.
In other words, to increase your gym membership sales, you need to get in front of people so they know who you are before you even speak with them. That's what pre-selling is.
(Not to be confused with "pre-sale"—if that's what you're looking for, I've done several episodes of The GSD Show on "pre-sales" HERE)
Some of the bigger franchises we work with have an advantage here as most people have at least heard about F45, Orangetheory Fitness, or SPENGA.
However, you want your leads to be even warmer than that.
That doesn't mean a bunch of small talk with people like, "How's the weather where you are?" — it's good to make people feel comfortable, but no one wants their time wasted.
The goal of pre-selling in your sales strategy is for them to already know about your gym.
The best way to do this is to put out more content and resources.
I Know What It's Like To Call Cold Sales Leads
When I first started Loud Rumor, it was tough. EVERY lead was a "cold" lead.
Even though I knew I had the ability to help their fitness studios grow and help gym owners be more successful, I had some major hurdles:
No one knew who I was

Everyone thought I was just like everyone else

They all wanted to see proof

Most people challenged my pricing

A lot of owners wanted to negotiate

everything
I could've blamed the leads, but instead, I listened to them… I understood what they were looking for and used it to start pre-selling.
So I started creating helpful content and resources. TONS of it.
After a while, when I would talk to gym owners on a sales call, they'd already heard about Loud Rumor and were asking how to work with us.
Every lead became a warm lead in my sales strategy.
They would say things like, "I saw that GSD Show episode Mike did about Marketing…" or "I read that Blog Mike wrote about 22 Tips To A Better Virtual Fitness Experience," and sales started to skyrocket.
Creating helpful content and resources allows potential members to build a rapport with you on their own.
It makes them feel more comfortable before the sales process begins.
Here are some things you can do to get your fitness studio's name out there:
All of these have FREE helpful links and guides to get your content out there and create warm leads for your fitness studio.
Pre-selling is a powerful way to generate warm leads.
Next, you'll want to manage those leads…
STEP #2 – Your Fitness Studio Lead Management Sales Strategy
The best way to manage your leads and make sure you're moving them through your sales funnel, is by using a Customer Relationship Management (CRM) software.
Being organized is more important than being talented (which I'll explain in a bit) and a great CRM will help you make sure you're keeping track of all your leads, their contact info, etc.
I recommend CRMs like MINDBODY or FitDegree.
Too many fitness studios over-complicate this or have a CRM that's loaded with data completely irrelevant to a working sales strategy.
It needs to be simplified:
Who to call

What to do next

Where each lead is in the process
In other words—you'll want to know how you're following up with people and who you need to follow up with.
Let's look at 2 salespeople…
Bob ranks as a 10 in sales skills but a 6 in organizational skills

Angie ranks as a 6 in sales skills but a 10 in organizational skills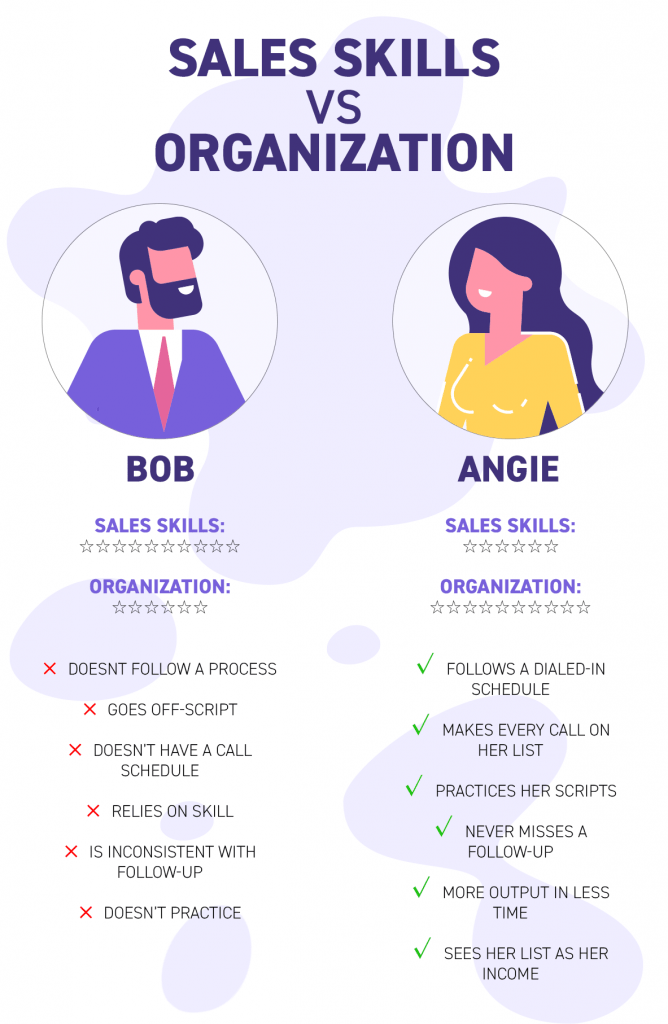 Month-over-month, as time goes on, Angie will dramatically outpace and outperform Bob in sales…
Why?
Angie took notes with how things are going with her leads, where they're at, things they said, concerns they voiced, etc. She has it dialed-in and organized.
Bob is winging it and hoping his skills get him through.
You are what you practice. Bob's not practicing being great at sales.
That's also why it's important to have salespeople who look at their list like their income.
Once salespeople see their list as their income, they'll want to master their action dates and activity charts.
Every Gym's Sales Strategy Requires Action Dates
Action Dates are logged dates and times to follow up with your fitness studio's sales leads.
Let's say a lead completes the form on your landing page and you contact them within 5 minutes (Your ability to contact leads AFTER 5 minutes goes down 900%).
After speaking with the lead, you both agree to chat tomorrow at 11:00 AM to set up a time for them to start their free trial and tour your gym.
Log that date and that exact time and call them tomorrow at exactly 11:00 AM.
Create these action dates after every call.
Even if you had to leave a voicemail, log a new action date for when you're going to follow-up with that lead.
Follow the same process when texting or emailing leads.
As part of your gym's sales strategy, your sales team should have their action date list in place before starting their day.
They should know everyone they're going to call or follow-up with for the entire day.
Each lead on your action date list will have 2 notes next to them:
History: Did you call, text, or email? What did you say? What did they say? Put important things in quotes so you remember to chat with them about it on your next contact.
Objections, concerns, what they're looking for, etc. Log it all so you can help them.
Future: Let's say they're not available because they're going on vacation or out of town, put your next or "future" action date in this space and jot down why.
If it's a vacation (and hopefully you asked where they were going to enjoy their time away), you can bring it up when you call them on your next action date.
"Hey, Jane! How was Hawaii? I bet you're ready to get back at it before your next trip, when can we get you in for a workout?" — always move the conversation towards getting them in the door.
After completing your action dates for the day, you and your team should follow an Activity Chart.
Your Gym's Sales Strategy Activity Chart
Once you've completed all of your action date calls, it's time to run through your sales activity chart for the day. Here, you want to call, text, or email:
Nurturing Leads

– These are the people who've fallen off. At Loud Rumor, after 21 touches, we put leads into a nurture campaign where we only follow up once a week.

Members

– Remember, selling doesn't stop after the close. You want to see how they're doing, where they're at, and see if you can Upsell, Cross-Sell, get Referrals, or a Review.

Paused Members

– Reach out, see how they're doing. Remember to focus on service.

Referral Partners

– Find out what they've got going on and see how you can help each other.
What if a lead says "No"?
The real question is, was it a flat out "no" or was it a "not right now"?
Typically, it's a "not right now." Remember…
They filled out the form.

They're interested in your gym/offer.

They're expecting you to call them.
If they suddenly have a change of heart, something broke down in the sales process and it's important to own that and improve it right away.
PRO TIP: Your job is to get them into the studio and sell them in-person, not pitch them over the phone. If your lead is interested in your virtual fitness option, you want to get them on a call. Human interaction wins.
If you handle the call really well, they'll be excited to come in or join you on a virtual call.
Now, it's rare, but if a lead does change their mind, a few things may have happened:
They weren't contacted fast enough (within 5 minutes of them filling out the form)

Someone didn't use a script, so they may have been fumbling around on the call

The salesperson didn't sound excited and wasn't leading the call to get the prospect in
Action Dates and Activity Charts are great ways to line up your sales day.
The next step in your gym's sales strategy is critical and I'll be honest with you right now, this is where most fitness studios are losing membership sales…

STEP #3 – Your Gym's Sales Strategy Should Have Constant Follow-Up
The top 5% of fitness studios we work with have a plan in place to follow up with every lead until they get a "Yes." Or, a "Please, stop calling me." (Which is rare).
If you're worried about bugging people, I'll explain in a bit why you're not.
First, you might be wondering how this is different from your lead management sales strategy with action dates and activity charts—here's why sales follow-up has its own step:
Too many salespeople and fitness business owners get this step wrong and miss out on sales that would dramatically boost their Monthly Recurring Revenue (MRR).
"More than 80% of sales are made between the 5th and 12th touch," Grant Cardone.
It gets worse…
According to a study by MarketingDonut, "92% of sales pros give up after the 4th despite 80% of prospects saying no 4 times before they say yes."
Just imagine how many sales were lost, how many new members went somewhere else, because someone on the team stopped following up after just 3 or 4 calls, texts, or emails…
Here is a LIVE roleplay from one of our GSDCON conferences on how the best sales people close the sale.
The 25 "no's" don't matter because that one "yes" changed everything.
When Loud Rumor started working with 4U Fitness, they had one location… over time, that turned into 8 locations.
Sales should always be a win-win transaction.
My constant calling to work with Daniel until he said "yes" benefitted both of us.
Too many people would see this as bugging the prospect, but remember how I started this gym sales strategy guide:
First things first, you need to make sure that you believe in your gym's purpose and that every product you're selling is designed to help your members get better results.
That belief in your gym's ability to help each and every single member—to change someone's life—is what will motivate you and your team to consistently and constantly follow-up with leads.
On top of adding 7 locations since working with Loud Rumor, Daniel referred nearly 20 fitness studios to us—helping more gym owners and helping Loud Rumor.
It took 26 calls.
Follow-up until you get a "Yes."
Don't Stop Sales Follow-Up After The 12th Touch
So, what's the perfect number when contacting fitness studio leads in your sales strategy?
I believe in 21 touches before you put leads into a nurture campaign… and that's what's worked best here at Loud Rumor.
Keep in mind that a sale isn't lost until they tell you to stop calling them. Just because they're in a nurture campaign, doesn't mean the sale is lost.
Day #1: 1-3 touches
If the lead came through in the morning, you should contact them 3X that day until you get in touch. If the lead came through late in the evening, you should just contact them once.
Day #2: 1-2 touches
It could be more if on Day #1 the lead came in at night, but typically 1-2 sales touches for a new lead is solid on Day #2.
Day #3: 1-2 touches
Again, your goal is to stay in front of them as much as possible. They just filled out a form to do a free workout at your gym, remember that before you feel like you're pestering them.
Day #4+: 1 touch per day
After Day #3, do 1 touch per day until you get to 21 touches. At that point, it's safe to put them into a nurture campaign where you're contacting them once a week until the say "STOP!"
TOTAL: 21+ Touches with Fitness Studio Leads
How Often Is A Potential Fitness Member Looking To Join A Gym?
In just the past month, my company Loud Rumor has generated 17,278 Leads for 250 fitness studios.
In other words, people are looking for a new gym all the time.
And, when they find it, they go all in. They get shoes, pants, shorts, shirts, bands, everything.
The question is, if the average American woman starts or restarts a new diet 9X per year—9X where she's motivated and ready to go—how do you contact her at the perfect time?
By calling all the time.
Follow-up and don't stop until you get them into your studio or in your virtual fitness program for a free workout.
How To Track Your Gym's Follow-Up Touches In Your Gym Membership Sales Strategy
My sales team and I at Loud Rumor have a simple method for tracking which fitness studio owners we follow up with in our sales strategy.
When we're leaving a note about a lead, we write "Voicemail 2, Email 1, Text 1." and the next day might be "Voicemail 3, Email 2, Text 2."
What this means is how we contacted the lead and how many times (total) we contacted them using a specific method.
Your notes will change when you start engaging with your potential gym member.
Scripts are a great way to help you and your sales team with what to say, email, or text at each touchpoint of your follow-up sales strategy.
To make it easier for you, we've created all of these scripts and they're available to fitness studio owners who are GSD 360 members!
Avoid Excuses For Not Following-Up With Your Gym's Sales Leads
Avoid these excuses "I don't want to bother anyone" or "I don't want to be a pest." Here's why…
Think about what happens when you get sales calls.
You either don't answer and let it go to voicemail, or you do answer and say, "I'm not interested."
After that, you go back to what you were doing and forget about it. It's like it never happened.
Gym prospects do the same thing. It's habit.
So when a salesperson uses this excuse, in my experience, it means 3 things:
They gotta be toughened up

They need to be educated

This is not for them
PRO TIP: #3 is rare and only happens when #1 and #2 aren't handled properly.
It helps for salespeople to be reminded of the lives they could change because they cared enough to follow-up and get their leads into your fitness studio.
One of the ways we do this is to highlight testimonials with our team. It reminds everyone why we do what we do and how every day is an opportunity to help a business owner grow.
Salespeople should be 100% bought into what your gym can do for people. Otherwise, it's just about sales instead of helping people.
Let's go back to Bob and Angie.
If Bob isn't following up because he's worried he's being a pest or that he's bugging people, that's vain…
That's Bob worried about Bob and what other people think about Bob.
Angie, on the other hand, doesn't care about Angie, she cares about the person she's calling.
She cares about how she's going to help the person she's contacting. Angie will close more sales than Bob every time.
She's not worried about bothering someone because she realizes that she doesn't even know who they are.
Angie knows the lead wants to get in better shape because they filled out a form, because they called, because they walked into the studio, etc.
She's on a mission to find out WHY and help them achieve that WHY.
…think someone like Angie will increase memberships at your gym? 100%.
Gym Sales Teams Should Act Like Fitness Coaches For Leads
Imagine you're running a group class at your fitness studio and one of your members started slacking off…
Let's say you knew they could do 5 more push-ups but they just stopped and got a little lazy, you'd call them out on it, right?
Of course! You'd push and motivate them to get more out of each set and be the best they can be!
Your sales prospects want to be coached the same way. Leads need your help to make a commitment.
It's not about how many people you're going to "bother" today. It's about how many people you're going to help today because you got them to say "Yes."
Be their coach from the beginning.
It'll help you sign more members. In fact, you'll probably get members thanking you for following up and convincing them to join your gym.
How many prospects call and say "Thank you" for not bothering them?
Zero.
STEP #4 – Your Gym's Sales Strategy Should Create Urgency For Your Leads
How do you get people to want to join your fitness studio… NOW?
Not, I have to talk about it with my significant other.
Not, I'll have to think about it.
Nope…
NOW.
You have to create urgency.
They have to know that your fitness studio is the solution they've been looking for and there's no need to put this off another day.
The best salespeople have this mentality. They know how important and special their fitness studio is and they get members in to experience it.
It's the same thing here at Loud Rumor.
In fact, my top salesperson made more money than me, the CEO, last year… same thing the year before that… and the year before that…
That's how important and urgent sales is.
Marketing = Leads

Sales = Revenue

Retention = Capacity
3 Keys To Creating Urgency With Your Gym's Sales Strategy
This is the best, easiest process for creating urgency with sales:
#1 Find Out What Your Lead's DBM Is
Your fitness studio's sales strategy has to get to the heart of why your leads want to get in better shape.
The best way to do this is to ask enough questions to discover their DBM (Dominant Buying Motive).
I want to get in shape
Nope. Not good enough.
I want to lose body fat.
Nope. Not strong enough.

I want to fit into the perfect wedding dress by November.
NOW we have a DBM.
Get to the heart of why they filled out your form because helping them achieve that and keeping their sites set on it will set you apart, sell them, and retain them.
#2 Utilize The "Us vs. Them" Sales Strategy
The "Us vs. Them" sales strategy is where you link yourself with the lead.
Example:
You and I are different from others who didn't think they could accomplish their goals.

What the "Us vs. Them" sales strategy does is it helps leads picture themselves inside the box they want to be in versus the box they don't want to be in.
#3 Don't Wait For Fitness Sales Leads To Pay You To Be Their Coach
Even though a membership at your fitness studio is something the lead is really interested in and wants to do, they'll still struggle to commit.
This is where you get to step up and be their coach.
When gym leads feel like you're a coach at this stage, they'll feel more confident with you being their coach when they're in a group class.
Here's how this conversation typically goes:
You: Eric, I can tell this goal is important to you, I have some openings today at 3 and 4, which one works for you?
Eric: No, it's cool, I can just come in tomorrow.
You: Ok, tomorrow? I can do 3 or 4 today. I know it's tight but I'm game if you're game, what do you think? Are you game?
Eric: Uhhhh…
You: Just so you know Eric, that "Uhhhh…" you just gave me, my goal for you Eric is to never have you do that because Step 1 is creating great habits. What I mean by that is making this an everyday habit. So, when do you think the best time to start is for anything: Tomorrow? Or now?
Eric: Yeah, now…
You: Can I be your coach starting this very second? I want to see you in here today. Which time works best for you, 3 or 4?
Eric: Oh, man…
You: I know… but that's my job. Sound good?
Eric: Sounds good.
You: 3 or 4?
Eric: 4.
This is you playing the role of coach from the very beginning. Eric will be excited to come in, excited to sign up, and excited where you're going to take him.
Part of your sales strategy is to be the same inspirational coach you would be if you were running a group class.
STEP #5: Every Fitness Sales Strategy Has A Powerful Presentation
Your presentation is where you convince them that this is the fitness studio they have to be a member of. Let's do a quick recap:
You marketed to them > Got their info > Contacted them > Followed up with them >
Engaged with them > Booked their appointment > And now, you SHOW them…
Do you know when your sales presentation begins?
The second they walk in the door for a free workout or tour and you say, "Hi!"
PRO TIP: You'll never have a second chance at a first impression is 100% true.
Find a way to WOW your fitness sales leads as soon as they walk in!
This presentation should be dialed-in, rehearsed (if necessary), and part of your fitness studio's sales strategy.
Let's Get Everyone Involved To Make Fitness Sales Leads Feel Special
Tell your team, get your most loyal members involved, and create a process so when your sales lead walks in, they're greeted by everyone with excitement and enthusiasm.
You'll want everyone to know the lead's name and to repeat it often (studies prove that few things sound sweeter than hearing your own name).
Tell your team a little about the lead based on your sales follow-up so it's more personal.
Imagine how that lead will feel!
This MUST be the place for them.
How could it NOT be?
You could even have a whiteboard up front that says, "Welcome John Smith to Loud Rumor Fitness!"
Tell Leads What You're Going To Tell Them, Tell Them, Then Tell Them What You Told Them
People develop an anticipation for what comes up next based on past experiences.
Your presentation is where you get to set them up for great things to come.
This is where you tell them what you're going to tell them, tell them, then tell them what you told them.
So you tell them exactly what they're going to experience, then deliver on that experience.
This is why it is so important to get prospects in the door and SHOW them what you're all about and how you're different from other gyms.
Same goes for your virtual fitness sales strategy. You want them to feel instantly special and hyped up with your virtual introduction and initial class.
If you can find a member who's had great results, especially if they're similar to the goals your prospect is looking to achieve, introduce them.
Fewer things are better than in-person proof to boost gym sales.
When it comes to your sales-strategy presentation, you need to:
Be Personable

Be Different

Deliver a WOW Experience

Add Humor

Make Them Feel Comfortable

Tell Them What To Expect

Fulfill What You Told Them To Expect
Check on them throughout the class. Keep them hooked by fulfilling each checkpoint you told them you were going to do.
Telling them what you're going to tell them, telling them, and telling them what you told them creates "micro-commitments."
Once you build these expectations of fulfilling what you say you're going to do, when you sit down with them and explain that you're going to help them hit their goals, what will they think?
They'll believe it.
You already delivered on everything else you said you were going to deliver on.
It's also good practice to keep asking "Yes?" at each checkpoint and during your post-workout consult.
Their response of "Yes" to you asking creates more micro-commitments.
All micro-commitments lead to the ultimate macro-commitment: Membership.
Remember, you're coaching them through the sales process and presentation just like you would in class…
You know a membership at your gym is going to help them just like getting them to do 5 more push-ups—coaches don't let people quit on themselves or their goals.
STEP #6: The Close – Your Gym Sales Strategy For Converting Leads Into Paying Members
…and that's it, right? After you close someone in the sales process, you win, it's over?
Nope…
Actually, this is where the real sales begin. This is where you truly begin increasing gym membership sales. Everything else was just preseason, if you will.
What's the #1 reason a lead won't sign-up? It's not the price… chances are, they're wearing an Apple Watch when they tell you it's too expensive, so that's not it.
It's not time, they did 5 workouts during their FREE WEEK trial period… so that's not it.
What is it?
FEAR.
Fear is why people don't sign up. They won't say it, but they're thinking things like "I'm afraid…
it's not going to work."

that I won't implement it."

it doesn't solve the problem I'm having right now."

that it's not as good as you say it is."

I'll spend this money now and need it the next day."
Fear + Time = No Action.
Sales leads aren't less afraid of committing to something by waiting, they're more afraid of it.
PRO TIP: People habitually say "no." It's human nature. It's up to you to find out why they're saying it. You'll quickly find it was out of habit and they actually can make a membership work.
Sales Scripts For Closing, Objections, and Rebuttals
Scripts will help you close more sales and sign more gym memberships.
We all have scripts going on in our heads. The difference is, sales scripts are proven and give you the confidence to close more memberships. Stuck on new sales scripts? Check out how you can use AI tools like other gym owners.
And remember, what does closing a sale mean for your fitness studio?
It means you just helped someone feel better about themselves and work towards achieving a goal that has a lot of meaning in their life.
That's why it's important to have:
Sales Scripts

Rebuttal Scripts
GSD 360 actually has the 5 Biggest Objections Training available to members here
You'll Close More Gym Membership Sales When You Create Great Habits
Great sales closers are great creatures of habit.
One of my favorite quotes from NBA legend Kobe Bryant was his response in an interview. The interviewer asked Kobe how he was able to hit one of his many game-winning shots and Kobe simply replied, "Because I've practiced that shot a million times."
When you're creating habits, you're not only prepared for sales objections but, when they come up, you and your team are excited about them.
Once you practice your sales scripts and rebuttals daily with your team, you'll ignite the Habit Loop.
This concept comes from one of my favorite books The Power of Habit: Why We Do What We Do In Life And Business by Charles Duhigg.
Here's how it works:
Que: "I don't know if I wanna do a contract…"
Routine: Respond with the rebuttal script for this queue
Reward: The prospect says "Yes!" to becoming a member
The goal is for the rebuttal to be a habit so when the que or "trigger" hits, the salesperson knows exactly what to say on command.
Do sales training every single day. If you can do it first thing in the morning, that's best. Practice those scripts. Role-play. Memorize. Ingrain. Go!
STEP #7: The Fitness Studio Upsell Sales Strategy
Upselling is not only important for your fitness studio, it's good for your members too.
However, it's important that you upsell ethically.
This is about helping people get the best results.
People will spend more after they buy something. It validates that their decision to buy was the right decision.
Once they become a member, they'll want to validate that purchase with more purchases. They're all in now and ready to go.
The best time to upsell is right after the initial sale. A commitment was made, why not make it the best possible commitment for the goals they want to hit?
Upsell Gym Members Based On Their Goals
The best way to upsell is based on your member's goals.
If you have John who's already in decent shape and just wants to get his butt kicked a couple of times a week to pair it with other activities he enjoys doing, it may not make sense to upsell him to an unlimited plan. It's probably not what he's looking for.
On the other hand, if you have Sally who needs to fit into her Wedding dress by November, she might want unlimited training to hit that goal.
Here's something you might say to a member when upselling them to a higher-tier pricing plan:
You: Hey, Sally! I saw that you did 3 workouts this week. How's it going? You loving it?
Sally: Yeah, it's great!
You: Awesome! You know, if you like it, why not get into our unlimited plan? I remember you saying you wanted to fit into your dream Wedding Dress by November and this plan can help you hit that goal a lot faster since you'll be burning more calories throughout the week.
Upsells happen when you believe it's what's best for the member.
PRO TIP: Don't Sell B.S.
STEP #8: The Fitness Studio Secret To The Cross-Sell
What else do people buy from you outside of your memberships?
Clothing?
Heartbeat monitors?
Supplements?
If you believe it helps them hit their goals faster, cross-sell them.
Frank Nash is great at this. He owns STRONGER Personal Training and joined me on The GSD Show:
Selling supplements and water helps Frank earn 6.5X more profit while retaining his members 2.5X longer than the industry average.
Bonus: Upselling and cross-selling are also big-time retention boosters.
Understanding The Difference Between "Price" And "Cost"
In any gym sales process, you want to help your members hit their goals faster at less cost. Another way to put it: Over-deliver value.
Unfortunately, with sales, most business owners and their leads get confused on the difference between "Price" and "Cost".
Here's the difference:
Price = How much money came out of your pocket to get it
Cost = How much money was left in your pocket after what you put back in because of it
On top of helping members, cross-selling increases your gym's profit, allowing you to keep paying your team, improve your workouts, improve your products, and so on and so on.
Sales is a mutual win-win transaction. Always.
The average person spends $100 on fitness supplements.
If your members only do 1/3 of that, that's $33 per member, per month.
That's $360 per year per member.
If 250 of your members buy $33 worth per month in supplements, you'd be bringing in an extra $90,000 per year.
This is all win-win.
They hit their goals faster and you're able to deliver a higher quality product with increased margins.
McDonald's doesn't make money on its burgers even though that's why people come in… McDonald's makes their money on their fries and shakes.
Your gym helps people beyond your membership… and that's a good thing!
STEP #9: How To Ask New Gym Members For A Referral
Remember when I said people want to validate their purchase? Part of that is telling their friends and family what they're doing. But…
They most likely won't do it unless you ask.
Here's a simple script you can use as part of your sales strategy to ask for referrals:
You: Sally, you've been a rockstar! You've come in like 4 times a week for the last 3 months! How do you feel? Is it kind of a habit now?
Sally: Oh yeah, I love it.
You: That's awesome, Sally. Well, I'd like to give you a gift and I wanna know if you can hook me up with something too, is that OK?
Sally: Yeah.
You: OK, cool. We wanna get more energy in the room—not like "regular" people energy, I want SALLY energy! The SALLY fire you've been bringing! Who do you hang out with that I can give a FREE PASS to to come and workout and you can show off what you've been doing here?
Remember, part of your gym's sales process is continuing to be a coach… even when asking for referrals
Do you have a sister? Brother? Mom? Cousin? Fiance?
Sally: Yeah I have a sister, cousin, and fiance.
You: Awesome! Which one of them would you like to bring in and show off what you've been doing here?
Sally: Probably my fiance… he wants to get in shape for the wedding too.
You: Yeah? You think you can beat him?
Sally: Oh yeah!
You: Do you want me to turn the heat up on him when he's here? Make it a little tougher?
Sally: (Laughs) Yeah!
You: What's your fiance's name?
Sally: John.
You: Alright, we're gonna get John in here. Ok, who else? You said you have a sister?
Sally: Yeah, she actually lives close by.
You: Oh nice… and are you two pretty competitive?
Sally: Definitely.
You: Let's show off in front of her too. What's her name?
Sally: Molly.
You: Molly. Cool. We're gonna get Molly in here too. If three of them join, I'll give you a month for FREE, how does that sound?
Sally: Great! I better start making calls (laughs)
*You'll do this with as many people as the member is willing to invite to do a workout*
Not only will you give each one of these referrals an incredible presentation and acknowledge their relationship with Sally when they first arrive, but now, they're instantly comfortable at your gym because they know someone who works out with you already and loves it.
But, 9 times out of 10, this only happens when you ask for the referral.
You have to ask.
STEP #10: Ask Gym Members For A Review Within Your Sales Strategy
This is a question I get asked a lot by fitness studio owners: "When's the best time to ask a member for a review?"
My answer is "after their first fitness milestone."
You and your team will have so many notes on each member that you'll know where their milestones are.
Let's say you have John and his first milestone was just to work out consistently for two weeks. Make a note of that and when he completes it, congratulate him, celebrate him, and ask him for a review.
Just like referrals, members aren't likely to leave reviews unless you ask.
You probably have members that are crushing it and absolutely love your gym. They're sharing pictures and milestones on Facebook and Instagram, but they probably never thought to leave you a review on Yelp!
…even if they looked at Yelp! or Google Reviews before signing up with you. It happens.
Let's run through another sample sales script for how to ask your gym members for a review:
You: Hey, John. I've noticed you hit that goal of being more consistent with your workouts and you're killing it. I hear you're already down 5-lbs?
John: Yeah… it's been great. I love it.
You: You're doing an awesome job, John! There are so many guys out there wanting to do what you're doing. Wanting to be more consistent like you, lose weight, and feel the way you feel right now. They're probably on the fence and a little nervous about whether or not this works, probably like you first were, right?
John: Yeah, a little bit.
You: I remember. Would you be willing to do a quick video about your experience so far to help them overcome that and get them in with a FREE PASS? You could just take a minute with your phone if you want to and talk about how you're feeling now, how you felt before, and what you've accomplished so far… is that cool?
John: Yeah, totally.
You: Thank you so much, John. That's awesome. Is there anything I can do for you?
John: No, I'm good. Let's do this!
You: Ah, John. Thank you so much.
John probably never would've thought about doing that video if you hadn't asked.
This shouldn't be random though. It should be part of your sales process.
If tracking member milestones and asking for reviews, referrals, upsells, and cross-sells is not a structured, dialed-in part of your sales strategy—especially with everything else you and your team have going on—you'll probably forget to do it.
Which will mean missed opportunities to grow your gym and missing out on sales and additional revenue.
That's why it's important to make it a habit. To make it part of your process.
On top of that, once you start this regularly, you'll start to notice just how much your members love and appreciate your studio…
It'll remind you why you do what you do.
There Are Only 2 Reasons Leads Don't Become Gym Members
When it comes to sales and dialing in your gym's sales strategy, there are only 2 reasons a lead doesn't buy—Or, in your case, become a paying member:
They're not the decision-maker

Lack of certainty
You'll know who the decision-makers are. Chances are, if they filled out your form, took your call, booked and showed up for your appointment, they're the decision-maker. So…
Let's focus on #2: Lack of certainty.
This is a little different from when I talked about "fear" earlier.
Fear is internal. It's a lack of belief in themselves.
Certainty is a lack of belief in you or your product. They're not certain they'll get results with your gym.
This is why referrals and reviews are so important.
Introducing that 3rd party proof into the process will always ease the lack of certainty and help you close more sales.
Take F45 working with Mark Whalberg for example.
People know and love Mark and, more importantly, they know he's in great shape. So, if he goes there, leads want to go there.
Here's the other great part about reviews:
You can, with the approval of your members, take that review and turn it into a Facebook and Instagram post.
Then, you can also boost that post and hit your retargeting audience with it, put it on your Landing Page, and BUILD certainty for people who might be on the fence.
STEP #11: Offer Gym Leads The Sales Option Of Paid-In-Full (PIF)
This is a great way to overcome price objections…
Offering a lead the option of paid-in-full is a powerful sales strategy that does two things:
It Anchors The Price

It Allows You To Serve
What It Means In Sales To "Anchor The Price"
Anchoring the price in your sales strategy means offering the option of paid-in-full, which will sound like an astronomical number but really, it saves the member money over the long-haul.
What happens is, when you continue to say a year-long contract paid-in-full is $3,300 over and over, suddenly, paying $299 a month doesn't sound as bad.
Despite $299 per month being more over the course of a year than $3,300.
Now, the $299 per month makes your studio more money, but it's good to offer the cheaper, paid-in-full option should you get a gym member who understands the savings.
This is where #2 It Allows You To Serve comes into play…
While $299 per month sounds a lot more doable and reasonable than an upfront payment of $3,300, you're still offering them an overall lower price. That's good service.
What Happens When Your Sales Strategy Doesn't Offer Paid-In-Full?
What typically happens when offering paid-in-full isn't part of your sales strategy is, you give the monthly price of $299 first and they say, "That's way too much money, I can't do that."
Yes, this is an objection that you can overcome with the habit loop and sales scripts mentioned earlier because usually, it's not "way too much money" and they can "do that." However…
You can save yourself the hassle of this habit-based objection by offering the paid-in-full price first.
Here's another sample script to help you ask for paid-in-full within your gym membership sales strategy:
You: OK, Sally so, with everything we've talked about it looks like you have about a 10-12 month goal.
So I think our 12-month contract lines up perfectly with your goals because I want you to get there at that 10 month point.
That way we have 2 months of maintenance to make sure you don't lose it from there and so you know what to do to keep it there. Is that cool?
Sally: Yeah, that sounds great.
You: Awesome, Sally. So with a monthly membership that's about $3,600 per year, but if you go paid-in-full today we can do it for $3,300. How does that sound?
Sally: Uhhhh… I don't think I can do $3,300 right now…
You: No problem, Sally. Would it be easier if I broke it up into 2 payments of $1,650? You can pay $1,650 now and another $1,650 six months from now. Is that easier?
Sally: I don't know… that's still a lot of money right now.
You: I totally understand, Sally and look, you have amazing goals and helping you achieve them is what we do here… and I know we can get you there.
I don't want money to get in the way, so let's just forget about the contract thing and get you started at just $299 per month.
Sound good?
Sally: Yeah… that sounds good.
That's the power of anchoring.
You offer an overall cheaper option, but for most people, that $299 per month will sound a whole lot more doable than $3,300 paid-in-full for the year.
If you want help implementing all 11 steps from this guide immediately, give us a call at 480-567-9794.
Now I Want To Hear From You About How Your Gym Will Implement This Sales Strategy
Selling more gym memberships is no easy task but with the right strategies in place it is possible! By leveraging social media, utilizing word-of-mouth marketing techniques, offering discounts & special promotions, focusing on experiences, investing in technology –you can increase membership sales at your facility! So what are you waiting for? What's the #1 sales strategy you're going to implement first?
Lead Management?
Your Presentation?
Scripts?
What do you still have questions about or need help with?
To continually increase your gym membership signups, get in touch with us here!
Let's GSD!